Quality car bodywork repair services in Tooting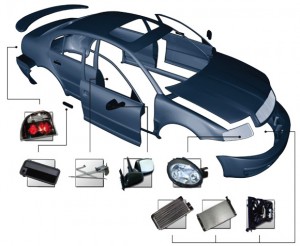 At Springbok Garage, we are proud to say that we have been in the vehicle bodywork repair business for many generations. In fact, the Williams family has been in the panel beating and bodywork repair industry since the car industry began – there's not much we don't know about restoring a vehicle to its former glory.
And our exemplary services have been noted by the insurance industry, who choose to use us to carry our repairs (you can read more about that here <link to Our credentials>.
Our bodywork technicians provide a full and comprehensive bodywork service on all makes of vehicles, including cars, vans and commercial vehicles.
Our bodywork specialities include (but are not limited to):
Full insurance estimation
Repair and restoration to original condition after accident, vandalisation etc
Air conditioning servicing and re-gassing
Alloy wheel repair
Our vehicle bodywork technicians provide a quick and efficient turnaround in order to minimise your vehicles off road time.
Added extras…for your convenience
In addition we offer the following added extras to all our bodywork clients:
Free courtesy car (3-door, 4-door and automatic models available)
Valet service, inside and out
Vehicle collection and delivery service
"Very helpful and lovely when I crashed my car, that's why I come back" Cerelia Howarth, TrustAGarage
Do you have a dink, dent or scratch that needs attention – or more serious damage that we can work our magic on?
to arrange a no-obligation quote*
*Please note, we do not give quotes or advice from a photograph. It's virtually impossible to give an informed opinion based on an image – we need to see the vehicle in order to assess the level of work involved.